The History of Troop 220
Troop 220 was chartered in 1937
The Girl Troop (7220) was chartered in 2019
We are proudly sponsored by Lee's Summit Christian Church
We are part of the Three Trails District in the Heart of America Council
Troop 220 is based in the central Lee's Summit 291 corridor
Being the largest girl Troop in the Kansas City area, our Troop consists of girls from 13 area high schools across the metro
We meet at 7:00 every Monday (with rare exceptions) year-round.
Lee's Summit Christian Church is located at 800 NE Tudor Road, Lee's Summit, MO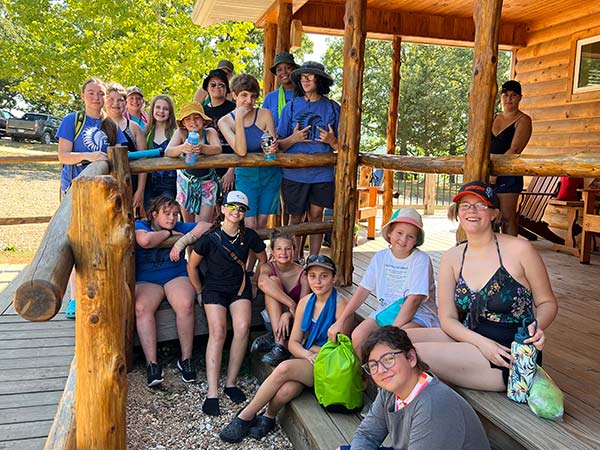 Our Scouts
We currently have over 40 registered Scouts in our girl troop
We have over 35 registered adult leaders
We have had 9 young girls who have earned the rank of Eagle Scout since 2019
Camping
We camp every monthly, year-round
We attend H. Roe Bartle Scout Reservation for 10 days every summer
We offer High Adventure treks every year
We participate in the Order of the Arrow and the Tribe of Mic-O-Say
We participate in the district Camporees and the winter Klondike which gives girls a chance to interact with Scouts from other troops
Troop Meetings
Troop meetings are a part of scouting where skill instruction is taught, and patrols have time to work together to accomplish any tasks they need to get done.
They begin promptly at 7:00 pm and will run until approximately 8:30 pm. If you're early, you're on time; if you're on time, then you're late."
Meeting Agenda
It is important to arrive before the meeting is set to start to help prepare the meeting room and be ready to begin at the start time. Arriving late may cause you to miss out on important information, and the whole troop should help get ready. Plus it is a perfect time to talk to someone if you need something.
6:45 pm - Pre-Meeting & meeting room setup
7:00 pm - Opening (flag ceremony, opening prayer)
7:05 pm - Patrol Meetings
7:30 pm - Skill Instruction/Presentation
7:50 pm - Game/Activity
8:10 pm - Cleanup
8:15 pm - Circle up announcements and closing program
8:30 pm - Post meeting
9:00 pm - Church closed, everyone goes home
Monthly Schedule
Uniform wear and activity are based on the week of the month. PLC members will meet from 6:00 pm - 6:30 on the 1st and 3rd weeks. PLC members are given a schedule of their meetings and any changes that might occur during their term.
Week 1: Class B night. If there are any investitures to be conducted this is switched to a Class A night and the investitures will occur immediately at 7:00 pm with the full meeting beginning afterward.
Week 2: Class A night. The program for this night might include a more active game.
Week 3: Class B night. Monthly Board of Review night for scouts who have arranged to have one conducted for their next rank.
Week 4 and 5: Class A night. The program for this night might include a more active game.
Attendance
Looking at scouting like a sport: the troop meetings are like practice/rehearsal, and the campouts are like game days/tournaments/competitions. It is important that scouts attend as much as they can.
Scouting is not about earning the Eagle Rank, it's about becoming a better leader in society. As you see in the rank advancement requirements, there are quite a few notes on attending activities. So not only to progress in being a better leader do you have to attend meetings frequently, but you also have to attend in order to advance in rank.